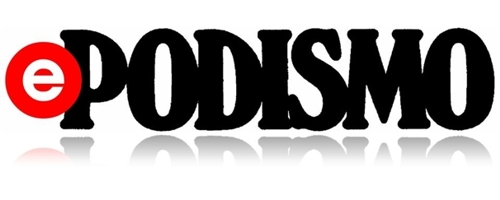 La ballata di Dorando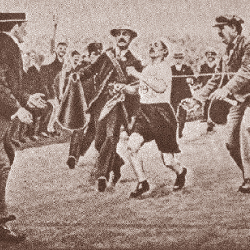 Salvatore Massara ha recuperato in America un documento di grande curiosità: lo spartito ed il testo della ballata che Irving Berlin dedicò a Dorando Pietri dopo l'esito, tanto disgraziato quanto fortunato, della prova olimpica del 1908 a Londra durante la quale il "fornaretto" emiliano venne squalificato per essere stato aiutato da un giudice a tagliare il traguardo.
Irving Berlin, pseudonimo di Israel Balin, siberiano, figlio di ebrei emigrati, morto a New York nel 1989 all'invidiabile età di 101 anni, fu autore di oltre mille canzoni, alcune delle quali di grande popolarità.
Lo spartito ed il testo della ballata sono stati pubblicati nell'articolo "Massara recupera la canzone Dorando" apparso sul periodico "Spiridon" n. 66 del 13 novembre 2000, articolo dal quale il contenuto di questa pagina elettronica è stato liberamente ripreso.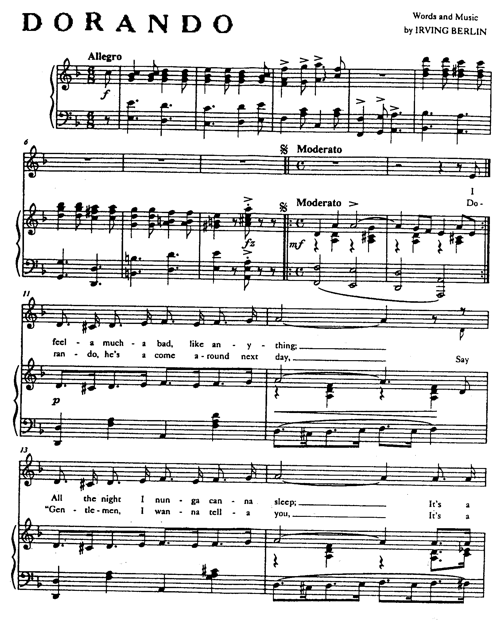 I feel a much a bad, like anything;
All the night I nunga canna sleep;
It's a my pizon Pasquale,
He say we take da car
And see Dorando race a "Long - a ship;"
Just like da sport, I sell da barber shop,
And make da bet Dorando he's a win.
Then to Madeesa Square, Pasquale and me go there,
And just a like a dat, da race begin.
CHORUS
Dorando! Dorando! He run - a, run - a, run - a,
Run like anything.
One - a, two - a hundred times around da ring,
I cry, "Please - a nunga stop!"
Just then, Dorando he's a drop!
Good - bye, poor old barber shop.
It's no fun to lose da mon,
When de sun - of - a - gun no run,
Dorando, He's good - for not!
Dorando, he's a come around next day,
Say, "Gentlemen, I wanna tell - a you,
It's a one - a bigga shame,
I forgot da man's a - name,
Who make me eat da Irish beef - a stew;
I ask - a him to give me da spagett,
I know it make me run a - quick - a - quick,
But I eat da beef - a stew, And now I tell - a you,
Just like da pipps it make me very sick."
CHORUS
---
| | | |
| --- | --- | --- |
| | | L'arrivo della maratona olimpica del 1908 - Il video originale del drammatico epilogo della maratona ai Giochi olimpici di Londra 1908 che valse a Dorando Pietri la squalifica per aver tagliato il traguardo, sorretto dai giudici di gara che l'avevano soccorso dopo averlo visto barcollare più volte, stremato dalla fatica. |